New Motospeed K1 Wireless&Wired Dual Mode 100 Keys RGB Backlight Ergonomics Mechanical Gaming Keyboard
New Motospeed K1 Wireless&Wired Dual Mode 100 Keys RGB Backlight Ergonomics Mechanical Gaming Keyboard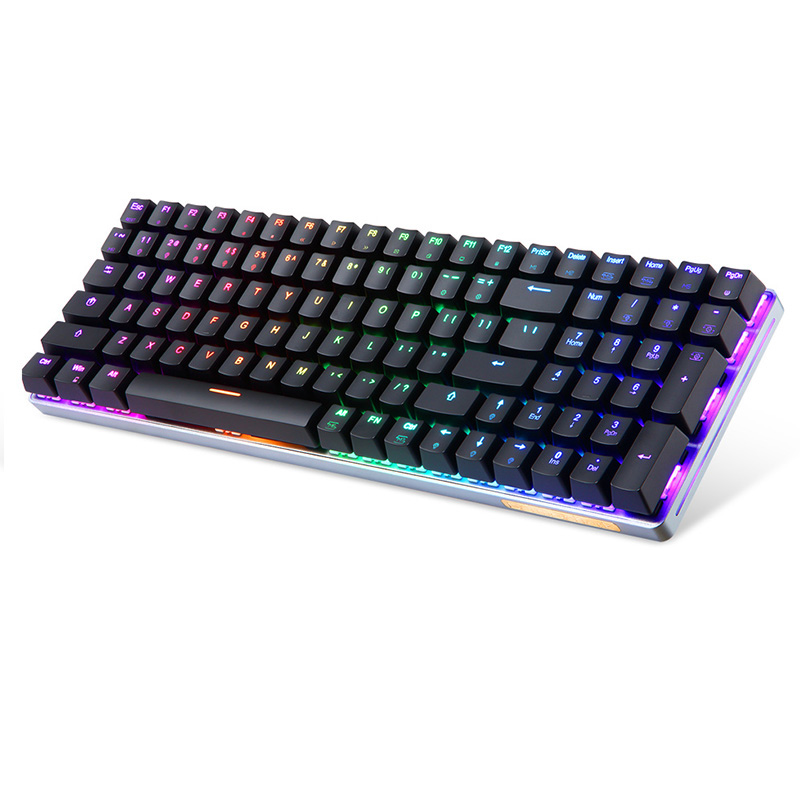 Product Category:
Keyboards
Estimated Shipping Time:5-7 business days
Stock: 99 pcs available
Cannot be shipped to: People's Republic of China.
Product Description
New Motospeed K1 Wireless Mechanical Keyboards 100 Keys RGB Backlight Ergonomics Gaming Keyboard For LOL PC Gamers
Product Specifications
Brand Name:MOTOSPEED Series
Name:Darmoshark-K1
Key quantity: 100 keys
Color: Black
Keyboard material: Black keycap + aluminum alloy panel + aluminum alloy bottom+ CNC tripod
Keyboard Switch: Gateron Blue Switch/Gateron Red Switch
Connection method: Wired/2.4G Wireless Dual mode
Switch Brand:GATERON
Connection: Type-C interface
Keyboard Lifespan ( times): 50 million
Anti-ghosting Number: Wired mode supports full key anti-ghosting/Wireless mode supports 19-key anti-ghostin
Cable Length (m): 1.50M±1%、φ3.0mm
Wired voltage: +5V±5%,
Maximum current used: 300MA
2.4G mode voltage:3.7V-2400MAH,
Maximum current: 380MA
Product weight: 827± 10g
Package weight: 1019±10g
Product size (L x W x H): 365.84mm(L)* 118.84mm(W)* 41.04mm(H) System support:WINXP/VISTA/WIN7/WIN8/WIN10
Features
-Customize the backlight function of the recording button.
-18 kinds of super dazzling LED lighting effects.
-Lock WIN function and LED indication, after lock WIN and lock APP keys at the same time, the indication is always on, and the light is off after unlocking
-FN+ESC: Restore to default lighting settings
-FN+PgDn: Turn off/on the backlight function
-FN+←/→: Mode direction adjustment
-FN+PgUg: Stop or start adjustment of individual modes on the front
-Num Lock, Caps Lock, Win Lock independent light indication
Highlights
1. Wired mode supports full-key anti-ghosting, wireless mode supports 19-key anti-ghosting
2. Wired USB working voltage: +5V±5%, maximum current used: 300MA
3.2.4G mode lithium battery working voltage 3.7V-2400MAH, using maximum current: 380MA
4. In wireless mode, the lights are all on, and the approximate use time is: 60 hours (interval use); when the lights are turned off, the approximate use time is: 500 hours (interval use)
5.2.4G mode pairing: insert the receiver, and short press FN+P at the same time to start the code pairing (the blue indicator light under the WIN word keycap flashes once), if the code pairing is successful, the blue light will go out; if the code pairing fails, repeat the above action.
6. In 2.4G mode, when no key is pressed on the keyboard, it will automatically enter sleep mode for 1-2 minutes, and it can be awakened by any key.
7. Wired mode: When the data cable is connected to the computer, it will automatically switch to wired mode.
8. Warm reminder: When using the FN key combination function on Apple computer system, you can only use the player, the previous song, the next song.